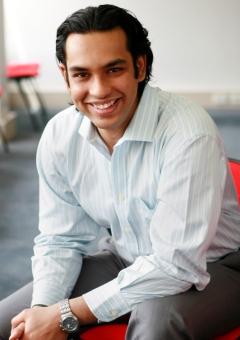 Karan Mitra is a PhD student at Monash University, Australia and Luleå University of Technology, Sweden. He received his MIT (MT) and a PGradDipDigComm from Monash University in 2008 and 2006, respectively. He received his BIS (Hons.) from the Guru Gobind Singh Indraprastha University, Delhi, India in 2004. His research interests include quality of experience modelling, measurement and prediction, next generation wireless networks, mobility management protocols, cognitive wireless networks and context-aware computing. His current research is supported by Australian Post Graduate Award (APA) and Luleå University of Technology, Sweden. He is a student member of the IEEE (CS, ComSoc) and ACM. Currently, he is an intern at CSIRO, Canberra, Australia working in the area of cloud computing.
Email: karan[dot]mitra[at]monash[dot]edu
Skype: karanmitra
My research page and the list of publications can be found here.
News
[03-09-12] Conference paper accepted at ATNAC'12. Titled- "QoE Estimation and Prediction Using Hidden Markov Models in Heterogeneous Access Networks".
[11-08-12] Journal Paper regarding MediaWise project is accepted in Journal of Internet Services and Applications, Springer.
[11-08-12] Demo Paper for the MediaWise project at CSIRO is accept at WISE'12 conference. More details for the MediaWise project can be found in this paper.